Read certified test reports.
On this page, you will find a bunch of test reports. All these reports are certified and will show you the effect that SpeedyDry gives to your printing inks. Do you want to know more about SpeedyDry? Please continue reading, we will talk more about the product later. Just click on one of the links at the top of this page, and the test report will open.
Do you have any questions?
If you have any questions, you can always send us a message. We try to respond as soon as possible. Please visit the webshop if you want to get in contact with us.
We also have some reviews. Hear the story of others, and why they use SpeedyDry in their printing inks. Visit the review page by clicking here.
Start getting more out of your printing inks!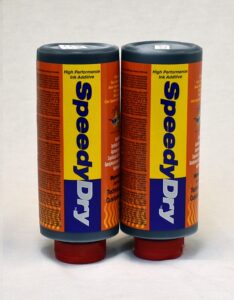 Get your SpeedyDry product on our webshop.
The following are some of the benefits of SpeedyDry on your printing inks:
Labor savings and lost production time due to the usage of slip sheets and/or minor paper lifts to eliminate ink offsetting.
A decrease in work-in-process inventory, as well as an increase in profitability.
The level of experience and skill required to run challenging press jobs has decreased.
A decrease in the use of expensive specialty "quick-drying" inks, as well as a reduction in ink inventories.
Due to the faster ink drying times made possible by SpeedyDry, jobs needing several ink passes can be scheduled more easily. This could lead to an increase in overall manufacturing capacity.
Email: order@speedydry.com