HOW TO USE SPEEDYDRY:

3 SIMPLE STEPS

SpeedyDry must be used as directed for kick butt results. The conductivity of your fountain solution should be at a minimum of 1500. Store SpeedyDry upside down.

Step 1: Determine the proper amount

SpeedyDry

can be added directly to your ink press side or premixed by one of our major

ink manufacturers

. It will not change the color of the ink. Use the chart below according to your equipment.

*Start at 15% for sheet fed presses (6000 -16,000 IPH).

Recommended concentration for Yellow is 7.5% on sheetfed presses and duplicators.
*

7.5% for web

presses and high-speed duplicators (12,000+ IPH).


Recommended concentration for Yellow is 5% on word presses and high-speed duplicators.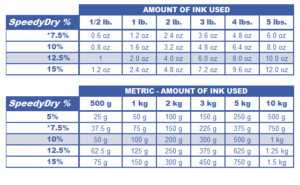 Step 2: Mix with your ink. Stir every 15-20 minutes.
Step 3: Just add fresh regular ink to fountain to run your next job if not needed. No washup until end of shift!
The best cure for your pigment ink, solvent ink, and other printing inks!
Perfect for pigment ink & more:
There's no need for high-priced EB or UV inks or systems. It can be blended on the press, integrated with GFI cartridge systems, or pre-mixed by one of our major ink manufacturer partners.
SpeedyDry High Performance Ink Drier is a ground-breaking compound that dramatically accelerates ink drying by accelerating cross-linking reactions far more effectively than previous driers. A novel and innovative chemistry that improves the solubility of our catalysts in ink is the secret to our Patented and Award-Winning formula. This increased solubility has two major benefits: 1) catalysts are more evenly dispersed near cross-linking initiation sites, and 2) dry concentrations can be increased significantly without the risk of phase separation.
Do you already have your SpeedyDry product?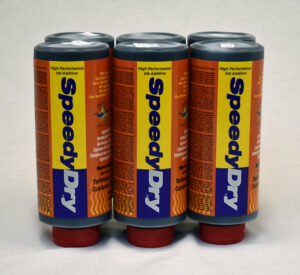 SpeedyDry is perfect for commercial printing companies. See all our products on the webshop.